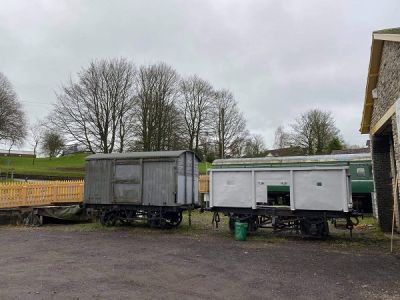 Mike Abbott
Wagons Roll!
One of the mineral wagons, on which work has already started to replace the plate work has been moved to the other side of the Goods Shed. This is in readiness for it to go into the Goods Shed in order that work can continue uninterrupted without the continued need to put up tarpaulins particularly when welding. Unfortunately, lack of covered accommodation is one area which the railway currently suffers from and the Trust is actively investigating options to provide more covered facilities for the future.
The other mineral wagon remains in the same position while work on the brake system is being undertaken.
Progress has clearly been hampered by the National covid situation with limited volunteer presence on-site, however once the situation improves such that the team feels able to return to the site, then the work will continue.
In the meantime with the loss of revenue due to the limitations of when we have been able to operate trains any contribution you can make to the wagon appeal fund would be really appreciated. The generosity of contributors to date has meant we have been able to purchase these 2 wagons. New steel has been purchased and delivered but around £1200 is needed to pay for the replacement floors and new brake hoses/seals.
The intention is that once complete the wagons will be used to store coal for use in steam locomotives.
Please if you can donate anything to this project to restore these types of wagons which have for decades been such a part of the S&D, and ensure that we can all can enjoy the site of these wagons once again running on the S&D. Please do so here.
Thank you.
Published By:
Somerset & Dorset Railway Heritage Trust 17th January, 2021