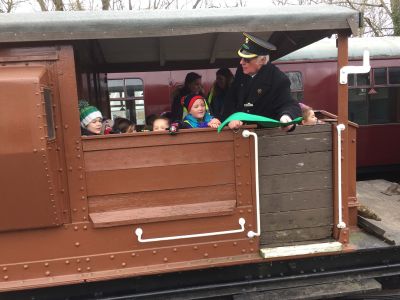 Welton School mini engineers ride the tracks
Volunteers at the Somerset and Dorset Railway at Midsomer Norton Station welcomed visitors from Welton school who are learning about engineering as part of their curriculum.
The party was guided in groups around the station buildings and grounds by Zaida Haworth, Vivienne Taylro and Roger Taylor, who was dressed for the part in a station uniform, with the children showing an active enthusiasm for all they saw. Will George was in the signal box explaining the all the levers which were a similar size to his audience.
Barry Bax, Museum Curator, opened the Museum for the children to see the splendid collection of railway artefacts and memorabilia including a life size horse.
He said
"We are very impressed that Welton school considers the history of engineeering in this neighbourhood to be important. These children have grown up without the benefit of a railway here so would know nothing about the importance of the Somerset and Dorset railway until now."
The visit culminated in a trip down the line in the Queen Mary brake van behind the British rail 08 class Diesel shunter.
The next event at the station will be a Steam Gala with a visiting Jinty Steam locomotive when The station will be open to visitors to ride the trains on March 10th and 11th and March 18th.
Published By:
Somerset & Dorset Railway Heritage Trust 9th March, 2018