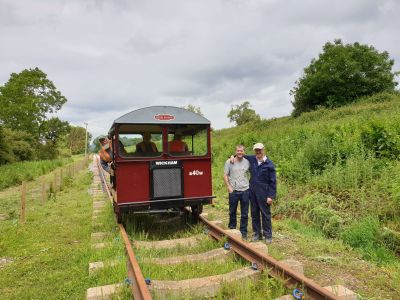 Wickham Trolley - test run.
There has been a concerted effort over the past few months by a number of our volunteers led by Alan Humphries to complete the restoration of Type 27A Wickham trolley B40W. The team have been sourcing and overhauling numerous parts to get this vehicle operational again since its withdrawal from British Rail decades ago.
These motorised trolleys were used by permanent way gangs from 1948 onwards o travel over the sections of railway line that they were responsible for maintaining and inspecting. A number were used over the S&D and Midsomer Norton even had a small shed just north of the now demolished road bridge over Silver Street where a Wickham Trolley numbered B11W was kept between duties.
It's recommissioning started with a number of short distance runs within the limits of the station yard, on Monday 17th June. It was then driven along the full length of the running line where operational tests were conducted including brake testing. This is essential before the vehicle is put into regular use by the railway.
Photographed at the end of the line near the infill, the photo shows a very proud Alan Humphries (right) and Maz Glanville stood alongside the trolley, whilst on the left is Will George and Jonathan Griffin inside the trolley and along for the ride.
Published By:
Somerset & Dorset Railway Heritage Trust 18th June, 2019