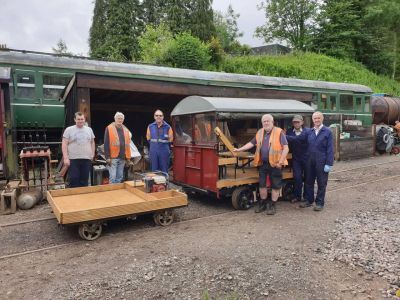 Wickham Trolley with Trailer
There has been a concerted effort over the past few months by a number of our volunteers led by Alan Humphries to complete the restoration of Type 27A Wickham trolley B40W. The team have been sourcing and overhauling numerous parts to get this vehicle operational again since its withdrawal from British Rail decades ago.
These motorised trolleys were used by permanent way gangs from 1948 onwards to travel over the sections of railway line that they were responsible for maintaining and inspecting. A number were used over the S&D and Midsomer Norton even had a small shed just north of the now demolished road bridge over Silver Street where a Wickham Trolley numbered B11W was kept between duties.
It's recommissioning started with a number of short distance runs within the limits of the station yard. It was then driven along the full length of the running line where operational tests were conducted including brake testing. This is essential before the vehicle is put into regular use by the railway.
The trailer is a refurbished Permquip trolley which can be semi- permanently coupled to the Wickham to carry tools and equipment. Alan Humphries, who led the Wickham restoration, refurbished this trailer and built the wooden box area which can accommodate a mobile generator which can be seen in its allotted position.
Trustee Brian Litherland who is a member of the volunteer track gang says
The Somerset and Dorset Heritage Railway is always looking for volunteers for all departments including building maintenance, gardening, catering, retail and administration. Come and see what is happening at the Silver Street Station on our Volunteers weekend of the 3rd and 4th of August.
The next train running days for visitors are the 13th July which is Diesel hauled and the 14th July which is steam hauled. There is also a family fun day with play,water and sand on August 11th.
Photo shows Lewis Baker, Stuart Garner, Matt Cornborough, Jonathan Griffin, Bob Freeman and Alan Humphries with the Wickham Trolley and Trailer.
Published By:
Somerset & Dorset Railway Heritage Trust 8th July, 2019