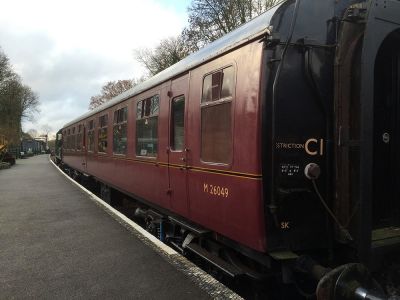 Steady start to SK Appeal - £2,340 raised so far.
Our appeal to raise £10,500 for the refurbishment of all the compartments in the SK coach started well but has slowed down recently. If you haven't yet donated, please do consider donating £10 to help us reach our target. To date, we have raised £2340.
We would like to say a big thank you to all those who have donated. If you have not, then please consider making a donation, every £10 brings us that bit closer to our target.
The Trust has agreed to underwrite the appeal in order that the work on refurbishing the upholstery on all the seats can commence and will be completed for when the railway restarts passenger operations in April. All the seats have already been removed from the coach and now sent away to the upholstery company for them to commence the work.
If the appeal does not reach its target, then funds that have been earmarked for other projects to improve the railway will have to be diverted to pay for this work on the SK coach which is long overdue, and therefore those other projects will suffer.
Please use the 'Donate' button at the top of the page to make a donation.
Thank you again to all those who have already donated, why not donate again when payday comes around.
Published By:
Somerset & Dorset Railway Heritage Trust 4th February, 2022