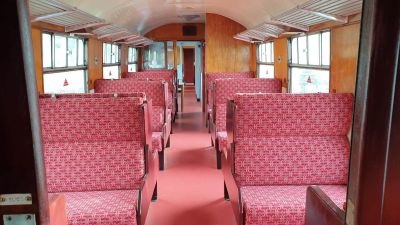 Barrie Papworth
RMB Refurbishment - We are getting there!
In November 2019, the Trust took delivery of RMB (Restaurant Minature Buffet) coach S1885. The vehicle was bought from the Swanage Railway and had been subject to a graffiti attack inside with paintwork and a number of the seats damaged. Once on site at Midsomer Norton, an assessment of the work required was conducted by the railway's Chief Mechanical Engineer Barrie Papworth, and a budget estimate of £10,000 calculated to refurbish the coach internally and paint the exterior.
Fundraising started in early March 2020 and by late June, the appeal had reached the halfway stage, the appeal now stands at £8,690 and we urgently need your assistance in order to reach our target of £10,000 and complete the exterior work on the coach before the bad weather sets in.
As you can see from the range of photos - both before, during and now that the internal restoration is nearing completion, the small team of dedicated and hard-working volunteers has made a fantastic job of refurbishing the interior of the coach. All internal surfaces have been renovated, new linoleum laid on the floor, and all the upholstery replaced by a specialist upholstery company, prior to the seats being reinstalled into the coach.
The coach recently underwent a steam heat test with the coach connected up to our resident Sentinel steam locomotive 'Joyce' and the test was deemed a success. All that is required now is a supply of food and drink and visitors to sit inside and enjoy the experience.
If you would like to contribute to the appeal in order that we can finish off the work on the outside, please give whatever you can, every pound is appreciated. Donate Here.
3rd November, 2020