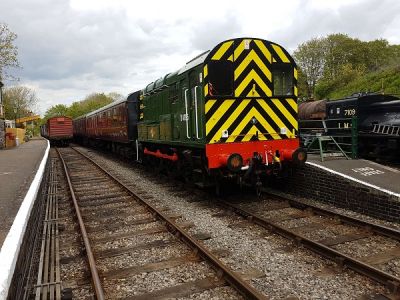 Brian Litherland
Tickets still available
We are open to passengers again this weekend and are pleased to say that we still have a number of compartments available in which you - and up to 7 other passengers - can enjoy two trips up the line for a cost of £25, including a £5 voucher to use towards food and drink in our buffet car.
In common with all Heritage Railways, we have suffered a severe loss of income since we stopped operating trains at the beginning of March and although our income has significantly reduced, we still have the costs of utilities, insurance, and other bills to pay whether we operate trains or not.
Equally now with the challenges that we all face with social distancing, together with the regulations that are in place to ensure the safety of both passengers and our volunteers, we took a decision to only run trains with our coaches that have compartments. This way family groups can travel in comfort and safety within their 'family bubble' whilst on the train. However, this does mean that the number of seats available per train is restricted and we cannot mix people together who are not from the same family group, therefore if one person travels in a compartment, we cannot permit other people who are not related to the single person to travel in the same compartment. This restricts both our seating numbers and the income we can generate on one train.
We, therefore, believe that the cost of a compartment at £25, allowing up to 8 people to travel in comfort for two journeys on the line is good value for money.
We are also now having to regularly purchase large quantities of Personal Protective Equipment (PPE) for our volunteers and have also spent several hundred pounds on fogging equipment to ensure the carriages are disinfected on a regular basis and that visitors have access to hand sanitiser and gloves. All this is additional expenditure that we now have to find whilst our income is still significantly reduced due to the restricted number of compartments that are available.
The Trust is also investing large sums of money - £35,000 for a buffet car and a further £10,000 to refurbish the vehicle to enable visitors to eat and drink in comfort once the work is completed. This again at a time when revenue is reduced.
We continue to monitor the Government's Covid advice & regulations, and hope to reintroduce the normal ticket prices once restrictions are relaxed and passengers once again can travel in open carriages and mix in the same compartment.
Until then we would like to thank all of those who visit and travel on the railway, together with all our members and supporters who are further afield for your continued support.
30th July, 2020