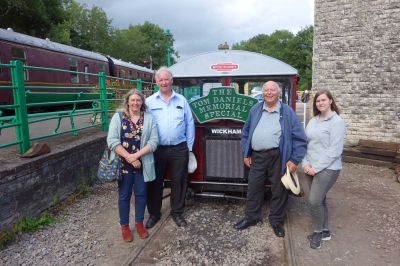 PS
Our second Wickham Wednesday and a first on the S&D?
The second of our Wickham Wednesdays was very popular and at 4pm featured what we believe is a first - a Private Charter in a Wickham Trolley over S&D metals. If you know different then please let us know! The special trip was organised by Lloyd Daniels partly as a birthday surprise for his brother who has recently become a Trust member and partly to commemorate his father Tom Daniels - 3 generations of the family were present. Before the special set out Lloyd explained how his father, as Chief Design Engineer for 'Caprotti', was responsible for developing the valve gear which was initially applied to L.M.S. 'Black Five' steam locomotives built in the 1940's and later to 30 British Railways Standard class 5 locomotives. The success of the latter work resulted in the gear being used on No. 71000 'Duke of Gloucester' built in 1954 and now preserved. A special commemorative headboard was applied to the Wickham and the trip up to the end of the restored line took place. This was a fascinating end to a successful day and we all learnt a great deal.
The Wickham trolley rides are now running every Wednesday until September 1st - they're great value; spaces limited to 6 per trip.
Click Here to Buy Tickets
Published By:
Somerset & Dorset Railway Heritage Trust 29th July, 2021