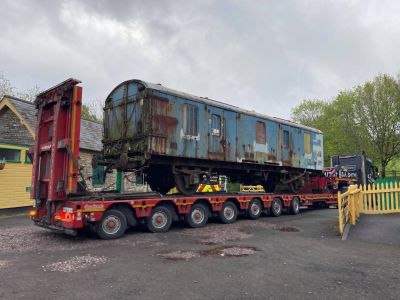 Another new arrival - CCT
The Trust took delivery earlier this week of Covered Carriage Truck S94438.
The wagon has been purchased by the Trust and overall is in good condition for its age. These wagons were a common sight on the Somerset & Dorset in its final years of operation. The wagon does require some repairs to the metal body panels and will be painted in maroon once all the work is completed.
The interior will be fitted out with shelves and lighting. It will become our "Emporium" for the display and sales of the increasing range of donated books, artwork and railwayana that we shall be carrying.
Previously we carried these items in a confined stock room in the former Ladies Waiting Room in the main station building. This was far from ideal and we need this room to hold our back-up stocks of goods for the shop.
The CCT enables us to hold far more donated stock and to display it more attractively than before. Donated stock is one of the most important sources of income we have, so it is important that we maximise the sales we can achieve.
The CCT will be stabled adjacent to the patio area and usually buffered up to the RMB Buffet Car. By so doing our visitors can browse the books and other items we have on sale, whilst enjoying refreshments from the buffet car
If you have any good quality railway books, magazines, model railway items or other railwayana, that you would like to donate, please get in contact with the Trust at:- general @sdjr.co.uk
The sooner we can complete the restoration of the CCT the sooner it can be generating income for the railway, so all donations will greatly help us achieve this.
To do so please click Donate here
Published By:
Somerset & Dorset Railway Heritage Trust 16th May, 2021