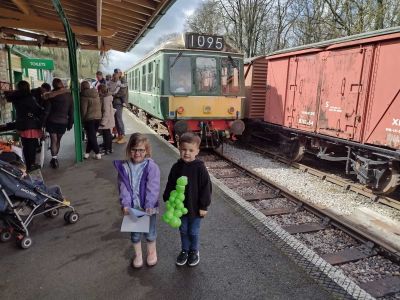 PS
Easter at the Station with Sunshine & April Showers
We welcomed a good number of visitors to our "Easter at the Station" event run over the 9th and 10th April 2023. The Sunday was pleasantly warm and sunny whilst Monday was a bit more dramatic weather wise with a couple of heavy showers - a typical April day in fact! As well as unlimited train rides there was an opportunity to participate in the ever popular Easter Egg Hunt with specially numbered clues hidden in all sorts of obscure places around the site. Volunteers were instructed not to give out too may hints on locations as some were in the know!
This Easter for the first time we had entertainment in the form of Punch & Judy shows on Sunday and a Magician on the Monday - both proved very popular and the there were some fantastic balloon creations to be seen along with happy, smiling faces.
This year we varied our motive power with resident Class 08 diesel shunter (D4095) hauling 2 Mk 1 coaches on Easter Sunday, and our Diesel Multiple Unit (DMU) doing the honours on Monday. As always thanks are due to all our customers and volunteers in making this a successful and enjoyable event.
Published By:
Patrick Stevenson 11th April, 2023