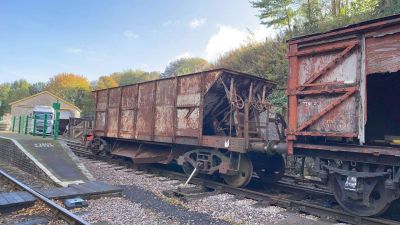 Mike Abbott
New arrivals at Midsomer Norton
On Wednesday 14 October we received the first of these wagons at Midsomer Norton. This is a Pallet Van or PalVan built in 1958 . Although the bodywork has seen better days its construction is similar to Box Van B785169 where we completely replaced one side and rebuilt a set of doors. Once restored it will be a fantastic addition to our small fleet of goods vans all of which represent a type that traveled over the S&D. The Trusts ambition is to recreate a typical S&D goods train as well as a train of mineral wagons which typically ran on the S&D in the 1950s and 1960s.
The second is a Walrus which arrived the following day. This is a bogie ballast hopper wagon built in 1947. It does require some repair work but once restored will be a very useful addition to the railway's small fleet of engineering vehicles. The wagon has a capacity to accommodate 40 tons of ballast.
Both wagons have come from the Swanage Railway and if you would like to donate to the restoration appeal, please follow the link to make a donation.
Published By:
Somerset & Dorset Railway Heritage Trust 16th October, 2020