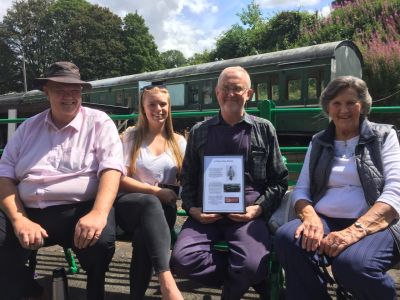 Reunited with an 'old friend' after over 50 years
Saturday afternoon of the 27th July saw a special steaming of Midsomer Norton Station's unique steam Sentinel locomotive named Joyce and numbered 7109. Family members of Joyce Helen Sandeman, the young lady after whom the locomotive was named in 1927, were reunited with Joyce the locomotive for the first time in at least half a century.
Andy Chapman, Owner of the Sentinel Loco 'Joyce', discovered that Joyce Helen was the daughter of William James Sandeman OBE who was the chairman of Croydon Gasworks in the early part of the last century. This was where the Sentinel locomotive 'Joyce' was used. Andy decided to find out whether there were any living relatives of Joyce Helen. He tried for a number of years without success to find any.
Then, in January this year, he received an unexpected phone call.
Andy recounted that
"The call was from a gentleman called Ian Hocken who told me that Joyce Helen Sandeman was his great aunt! At a family get-together last Christmas, the question of what had happened to steam locomotive named after Joyce Helen was raised. It was decided to do an internet search for it. Not expecting anything, they were gobsmacked to find my blog about the restoration and YouTube videos galore of Joyce in action from the restored Midsomer Norton. Ian then decided to make contact with me."
Arrangements were made and on Saturday Ian Hocken and his family travelled over from Reigate in Surrey to meet 'Joyce'. Two of the family members, Jenna and Elizabeth, have Joyce's family name of Sandeman. Andy met them on the platform at Midsomer Norton station and introduced them to 'Joyce' before they travelledup the line on a vehicle hauled by this unique locomotive.
Station volunteers were there to make the occasion one to be remembered and the family were treated to tea in the buffet car. This was followed by another ride up the line before they had to return home after a most enjoyable day.
Andy said they were more than thrilled to see Joyce in such a splendid condition and the ride up the line lived up to every expectation.
Visitors can see Joyce the Sentinel locomotive on event days at the station. The next one is the Family Fun Day on August 11th when you can bring your children and friends for sand and water play together with lots of other fun activities. Joyce will be hauling restored 1950's British Railways coaches to take visitors for a ride along a section of the restored iconic Somerset and Dorset line from Midsomer Norton Station. Come along with your family and enjoy a summers day of fun at the station from 11 till 4 o'clock.
Published By:
Somerset & Dorset Railway Heritage Trust 1st August, 2019