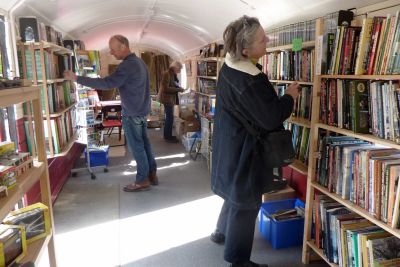 R Burfitt
S & D Emporium opens on April 2nd
According to Collins Dictionary an Emporium (noun) is a store or large shop
The S&D Emporium opened ready for the new operating season at the railway, welcoming visitors to browse and buy from our extensive range of Second-hand & Delightful Goods. Mainly featuring railway themes, these include books, DVDs, jig saws, collectables and model railway items. The latter are particularly popular. We carry a wide range from natty little platform fittings, through to some very nice carriages, wagons and locomotives.
Compared with the restricted facilities we had previously, this is indeed an Emporium. It is housed in a railway vehicle adjacent to our patio area and right next door to our ever-popular Buffet Carriage. For those who like to know these things it is a Covered Carriage Truck or CCT (railways love acronyms) and these were a type of railway van with end doors used for moving motor cars or parcel traffic.
Our CCT came from a supportive Trust member who is pleased to see the vehicle put to good use. CCT vans were often used over the line so it is an authentic vehicle for us to have. It was in a careworn condition when it arrived but excellent work by our volunteers, have transformed the CCT into the S&D Emporium. This now gives us the opportunity display many more of our donations in an attractive space which is already receiving favourable comments from our visitors and the local press.
Donated goods, which we are increasingly being offered, are a vital source of income to the railway. Sadly, many donations come to us following the death a loved one. At least we can offer the comfort of all we receive going to a good cause.
Very soon the Emporium will also feature a scale working model railway in N gauge of Midsomer Norton station and surrounding area just as it was in the late 1950s. Another attraction for our visitors of all ages so do come and see us on your next visit to the Somerset & Dorset Railway at Midsomer Norton South Station.
Published By:
Patrick Stevenson 4th April, 2022