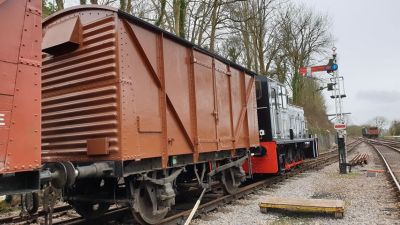 Barrie Papworth
Wagon restorations
The railway is in the process of slowly restoring a number of goods wagons as part of our long term aim to create a typical Somerset and Dorset railway goods train.
At the moment the side doors on our box van B756069 are being replaced and one of our other vans B785169 has been repainted and can be seen behind our resident class 03 diesel shunter in the photograph.
The railway has had replica builders plates cast for these two goods vans. Matt Harris who is also the railway's training assistant for new volunteers is undertaking the painting of these signs -as can be seen from the photograph, Matt is making a fantastic job of them. Once completed they will be fastened to their respective wagons.
From the beginning, Matthew applied thinners and a high-quality gloss black to the whole plate, once dried he was able to apply four layers of white paint to the lettering and a band around the plates. The whole process takes Matt five days in total.
We currently have an appeal running to generate funds for the repair of our latest two acquisitions - 16-ton mineral wagons - any money that you can donate will be gratefully received and assist in the rebuilding of these two mineral wagons,, together with the care and maintenance of our growing wagon fleet.
Bringing home the Goods appeal. https://www.justgiving.com/fundraising/sdrht-bringinghomethegoods
14th August, 2020